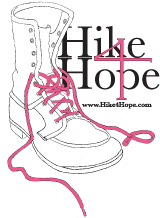 This week's blog is about a great event, Hike 4 Hope (that unfortunately I cannot attend this year). My friend Leslie wrote this earlier this week, and I think it says it all. Please give what you can to our team.
"My business partner, Eileen Stern, is an amazing can do woman.  Having lost 6 family members in a year (including her Mother) to cancer, she turned her tragedy into triumph by creating Hike 4 Hope, a fundraiser to fund women's cancer research at City of Hope.   Twelve years later her grass roots idea has blossomed into an annual event & this year will host over 1000 participants hiking in the majestic Indian Canyons of Palm Springs.
When it comes to fund-raising for City of Hope, I have no shame.  My commitment to COH is a personal one.  Given three months to live, I'm alive today because of COH's collaboration, care & research/development of the drug Rituxan.  COH research has also led to the development of other leading anti-cancer drugs; Herceptin, Avastin and Erbitux, as well as synthetic human insulin –all of which are saving millions of lives worldwide.  Additionally COH has pioneered the use of TOMO Therapy (pin point radiation) & the DaVinci surgical system (prostate cancer).
We are aware of an injured economy.  Unfortunately active cancer cells could care less.  Far too many of us know someone whose life has been impacted by this disease.  This year we've formed a team to hike in honor of our dear friend, Marcelle Freides, who is again battling breast cancer after a 5 year remission.  The great news is she is being co-treated at both St. John's Hospital in Santa Monica & City of Hope.
This Valentines Day marks 4 years since my initial cancer diagnoses and a day of sharing gifts from the heart.  Please open your heart and support me by joining Marcelle's Mighty Marchers through the link.  Your gift of hope will help benefit all the mothers, daughters, friends, and loved ones who deal with the shock of a cancer diagnosis every minute."
And please don't forget to check out this week's Blogging Boomers Carnival.